Imagine you're the owner of a small coffee shop, and YOU KNOW that your coffee is the best in town, yet you're spending hundreds on marketing but noticing no difference in sales; pretty frustrating, right?
Whether you run a small or large business, when you have a physical location and want nearby customers to find you, you need a local SEO strategy.
In our line of work, we're often asked, "What is this SEO thing I've been hearing about a lot? Why should I use it? How can it help my business?" In this digital world, businesses already have to worry about website design, social media, and email marketing, while most businesses might not even know what local SEO is. If this sounds like you, let us explain why local SEO is so important.
What is local SEO?
Local SEO (Local Search Engine Optimization) optimizes your web presence to help your business be more visible in local search results on Google. To be more specific, Local SEO is implemented by using  Google My Business, which is a specific service used by businesses to target local customers via Google Maps.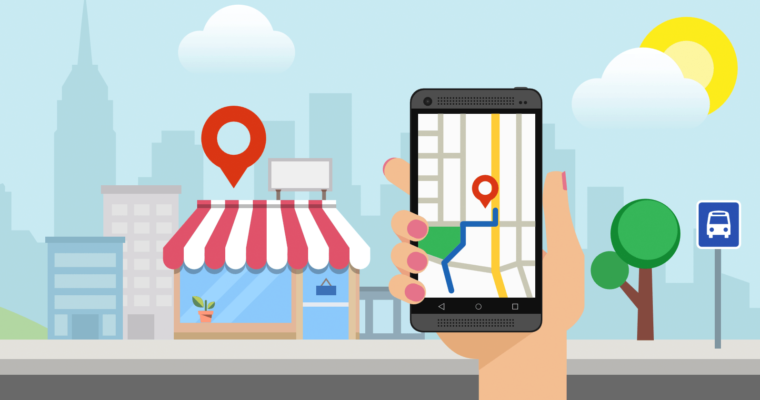 For example, let's say you're driving to work and decide to grab a cup of coffee on your way. One of the things you might do to find a coffee shop quickly is simply search for "coffee shop" or "cafe" on Google.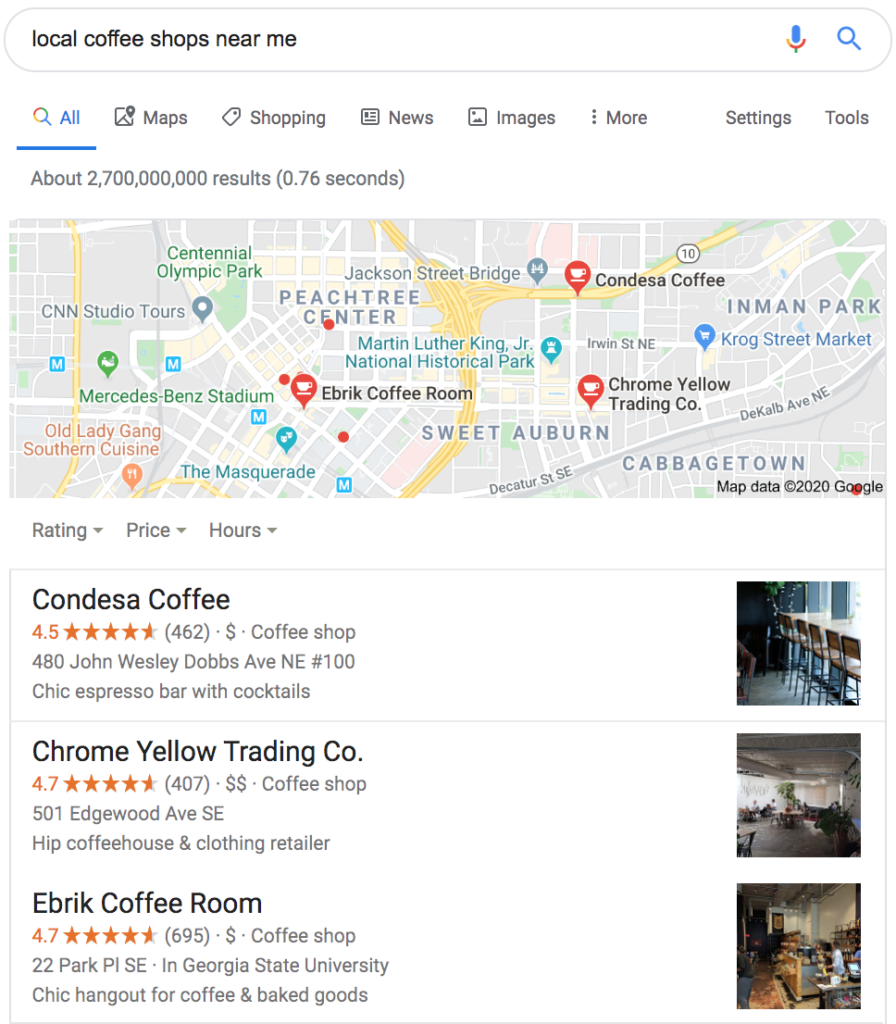 To give you the best results of the closest coffee shop locations, Google takes your location into account and displays 3 coffee shop options. These top 3 search results on Google Maps are designed to help businesses be more visible when consumers are searching online.
Why is local SEO important for businesses?
Local search intent is specific
Local customers typically search for something specific that can be found in businesses near them, and your business needs to be visible when potential customers are searching. For example, if you are looking for a dry cleaner and live in Oakville, you would not want to find a business in Toronto. Local SEO helps businesses connect with local customers by utilizing their location and recommending specifically what people want.
Local search can lead to more customer visits and sales
Customers who search for local businesses most times are ready to visit right away. According to Google research, 76% of people who searched for local businesses visited the business within the next 24 hours. Why is this? When consumers are searching for local businesses, they have already decided to purchase. People do not search for something that they want to buy in three months. Consumers who do local searches have an immediate need and are looking for a convenient solution.
Searchers choose businesses on the first pages
While it's not easy to get your business showing organically on Google's first page, nothing is impossible with local SEO. While you'll have to bid against other companies for appearing on the first page with website SEO, local SEO is less competitive and more realistic to get real business in a short time frame.
Local search has the highest conversion levels of all local advertising channels
Local directory marketing has the highest conversion rate out of all advertising options. By having an accurate listing on local search, you'll convert 1 in 2 viewers into actual customers.
Can you think of the last time you looked for a restaurant near you? Why did you choose that restaurant? Well, if you are like most people, you probably searched for a restaurant near you and checked if it had good reviews and reputation. But it's not limited to just it. You also probably have checked their website to see if they had your favourite type of steak or quickly checked Instagram for their food pictures.
Mobile Internet network is growing
More and more customers use their mobile phones to find the best local businesses while they are on the go. Local SEO covers all the gadgets, meaning you never miss out on a potential customer.
Are you tired of spending hundreds on marketing yet not seeing any results? Are you frustrated that people don't find you on Google Maps?
Our team has four different radius packages that will take your Google Maps presence to the next level and ensure your company's success.
Give us a call and talk to one of our experts to see what package suits your business's needs and goals best!
(437) 317-4452 | info@yourslistingexpert.com
.
.
.
.
.
.
.
https://yourlistingexpert.com/local-seo-vs-website-seo/
https://yourlistingexpert.com/listing-packages/
https://www.forbes.com/sites/theyec/2019/11/04/what-you-need-to-know-about-the-latest-local-seo-trends/#49214123513e
https://www.forbes.com/sites/forbesagencycouncil/2019/11/04/six-local-seo-strategies-to-help-you-show-up-in-searches/#1159b36f1494
https://www.thinkwithgoogle.com/marketing-strategies/search/mobile-near-me-searches/