October 6, 2010, was a revolutionary day for the Internet, Social Media and the way businesses market. Founders of Instagram, Kevin Systrom and Mike Krieger were on a mission to create a mobile application truly unique to photo-sharing. Nine years later, the "beta" app that was originally named Burbn has amassed 1 billion active monthly users, as of June 2018, according to Statista. The growth of the app is quite astonishing, as it went from ninety active users in January 2013 to a billion in just five years. That's a mind-blowing 1.1 million percent increase in business over that time period.
Today, Instagram is no doubt the most dominant image-sharing social platform, bringing a real inside look into someone's life or the day-to-day of a business.
"If your business isn't on Instagram these days, you'd better have a good reason. If you sell any kind of physical product, if you have stores, or if you want people to recognize your brand, it's time to get an account." – Patrick Whatman
Once you create an Instagram Business account, there are many different factors involved to make sure people find your business and keep coming back again and again. Here are three tips to maximize your business on Instagram.
Post High Quality and Visually Appealing Content
Quality is everything. Do you consider your business as a low-quality business? Probably not. Photos that are high-resolution give a "clear" visual message. Images that are blurry or pixelated are a HUGE turn-off. A report from Made Freshly stated that humans are wired to process visuals 60,000 times faster than words.
Write engaging and persuasive captions
Captions like visuals add a critical element to each post your business makes. It's how you convince someone of something or get a consumer to visit a website, call a number or take action. Utilizing words like "free," "instantly" and "new" will increase your post engagement, and making it sound professional will set the standard for your business as an industry leader. Instagram has a 2,200 character limit for captions, which won't limit your creativity or thoughts.
Use relevant hashtags
What is a hashtag? Great question. Think of it as portal to a topic that thousands even millions are talking about. For instance, if I use the hashtag "#BestDayEver" a link will be created, once clicked you'll see a search result page of all the other photos that used the same hashtag. Instagram allows you to use a maximum of thirty hashtags per post, which from a business standpoint is huge because it puts you into thirty different "conversations." Ensuring your hashtags are relevant to your business is important. You don't want to use the hashtag "#IceCream" if you're trying to promote a flooring service. Seems silly and straightforward but it's something that still happens from time to time.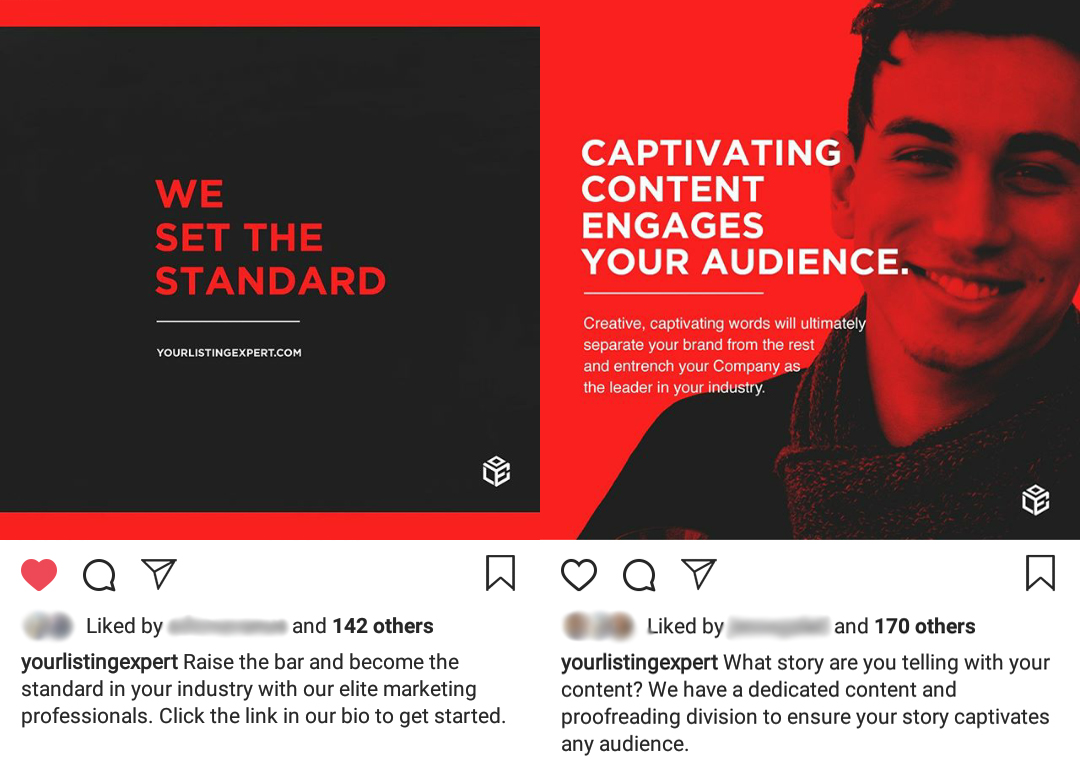 So as you can see Instagram has now become a significant factor for a business's marketing and growth plan, and as stated before if your business isn't on the social platform, you need to be. Eighty percent of accounts follow a business on Instagram. Is your business one of those accounts?
Our team has mastered marketing on Instagram to get real followers, real likes and real growth. Chat with us about launching an unparalleled social campaign for your business to not only impress your following but also turn them into paying customers. For more information click here.
.
.
.
.
.
Citations
https://www.inc.com/30under30/2011/profile-kevin-systrom-mike-krieger-founders-instagram.html
https://www.statista.com/statistics/253577/number-of-monthly-active-instagram-users/
https://mention.com/blog/instagram-marketing-tips-for-business/
https://neilpatel.com/blog/succeed-instagram-business/
http://madefreshly.com/blog/marketing/instagram-marketing-mistakes/
https://sproutsocial.com/insights/social-media-character-counter/
https://business.instagram.com/
https://mention.com/